Lifeline Connections selects local citizens to receive annual awards
(Vancouver, WA) – Lifeline Connections has selected Armando Herrera to receive the 2016 John Cox Award of Excellence and Olivia Resnick to receive the 2016 Community Partner Award.
————————————————————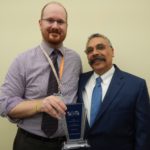 The John Cox Award of Excellence is given to individuals in our community who are vocal supporters of chemical dependency and mental health treatment. Armando Herrera has been a strong advocate for behavioral health treatment in our community for many years. He is dedicated to making sure behavioral health treatment is accessible to all so individuals can get the help they need to find and achieve recovery. Armando has served on many county and state committees and was a past board member of Lifeline Connections.
(Jared Sanford, CEO presents award to Armando Herrera)
————————————————————–
The Community Partner Award is given to individuals in our community who partner with Lifeline staff to provide comprehensive and support services to Lifeline patients. Oliva Resnick was selected because of her passion and tireless efforts in helping to secure housing for all members of our community.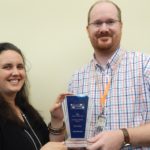 Olivia is the Housing Solutions Director at the Council for the Homeless. Olivia has shown a passion towards helping individuals in our community find safe and affordable housing. She currently serves on Lifeline Connections' Sobering Unit Advisory Board and had been instrumental in helping individuals who access sobering services find and secure affordable housing.
(Oliva Resnick accepts award from Jared Sanford, CEO)
————————————————————–
Lifeline has a 54 year history of providing mental health and substance use services to Southwest Washington residents. As a leading provider of behavioral health services in the region, Lifeline is honored to recognize the valuable contributions of Armando Herrera and Oliva Resnick make in serving the residents of Southwest Washington.