Lifeline Connections selects local citizens to receive annual awards
(Vancouver, WA) – Lifeline Connections has selected Whitney Howard to receive the 2017 John Cox Award of Excellence and Trevor Clark, DC to receive the 2017 Community Partner Award.
————————————————————
The John Cox Award of Excellence is given to individuals in our community who are vocal supporters of substance use disorder and mental health treatment. Whitney Howard, Director, Integrated Marketing Communication (IMC) implementation, Molina Healthcare of Washington is responsible to oversee the readiness for go live dates between behavioral health providers and Molina. Whitney helped Lifeline secure funding for startup costs associated with the new Mom's Recovery House scheduled to open in 2018.  This 16 bed facility will provide substance use treatment to women and their children up to the age of 5.  Prior to being Director of IMC Implementation, Whitney was the Director of Provider Contracting for Washington which provided experience and network oversight with a focus on key and strategic partnerships statewide.
————————————————————
The Community Partner Award is given to individuals in our community who partner with Lifeline staff to provide comprehensive and support services to Lifeline patients. Trevor Clark, DC was selected because of his passion and commitment to volunteer two Friday's a month providing chiropractic services to our patients in residential treatment.  Dr. Clark provides great patient care, works well with our staff and most importantly receives rave reviews from our patients.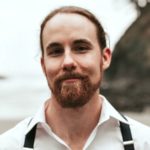 After graduating from Camas High School with honors, he went on to the University of Washington where he received a Bachelor of Science degree in Molecular Biology.  This background transferred to Western States Chiropractic where he earned his Doctorate in Chiropractic. Dr. Clark owns and operates Clark Homestead & Produce a small natural farm providing seasonal produce to local area restaurants and markets, with the intent of improving individual nutrition and sustaining the local community economy.  He is also the owner of East County Chiropractic where he provides holistic alternative medicine, including chiropractic, physical therapy, and nutritional counseling, focused on dealing with underlying aliments, in order to improve a person's health.
————————————————
Lifeline has a 55 year history of providing mental health and substance use services in the Pacific Northwest. As a leading provider of behavioral health services in the region, Lifeline is honored to recognize the valuable contributions of Wendy Howard and Dr. Trevor Clark.